About

Us

Metal Man Processor Inc.

Established in 1993, specializes in recovery of scrap metal in remote areas for mining and forestry, and demolition of metal structures of all sizes, from escalators to ship loaders.
Over the years Metal Man Processor Inc. built a strong reputation in it's community by understand that proper waste handling is crucial to the safety and security of employees, the environment and our business.

Whenever we handle, store and dispose of materials such as paints, solvents, and any other products labeled flammable or poisonous, we do it by the book.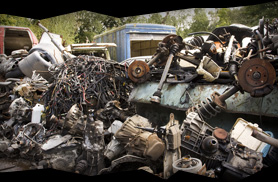 Straight Forward Business Techniques
Metal Man Processor Inc. straight forward business techniques and uncompromising client service insures the clients complete satisfaction while recycling pieces of scrap metal no matter how large or small they are.


Metal Man Processor Inc. understands that recycling has become crucial in our country today with all the emphasis on helping to conserve energy, save money, preserve our landfills and help keep our environment clean and healthy.


THAT'S WHY WHEN WE TAKE ON A JOB WE MAKE SURE IT IS DONE RIGHT FROM START TO FINISH.